The wakizashi is a traditionally Japanese weapon and, when worn with a katana, it was the sure mark of a samurai in the feudal era. Wakizashi were typically smaller than katana and used in close quarters fighting or ritual. After laws were made deciding which classes could wear what swords, the wakizashi could be worn by itself by those who were not samurai. We offer a range of wakizashi swords here at Buying a Sword, including some hand forged, traditional wakizashi that are fine collectors pieces as well as functional blades for battle. We also offer more modern renditions of the wakizashi and even tactical wakizashi here. Our decorative wakizashi are ideal for adding to historical displays or weapon collections, too. For any kind of wakizashi, modern or historical, search this category here.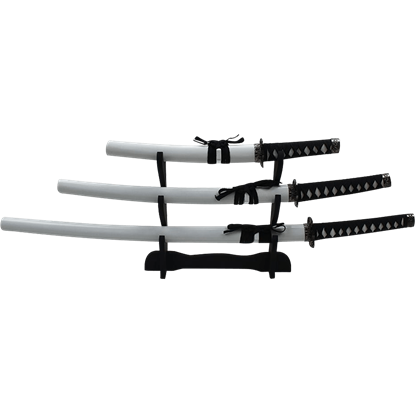 Item # NP-K-0021-4-WT
If you are looking for a Japanese sword set to add some unique style to your home decor or collection, be sure to look at the Warrior White Sword Set. This decorative sword set makes a great addition to any sword collection or decor.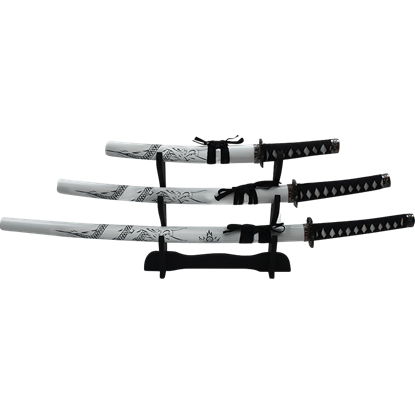 Item # NP-K-0021-4-DG-WT
The dragon clans have honored you by granting you the White Carved Dragon Sword Set. You display it proudly to show your connection to the dragons. This dragon sword set makes a great addition to any sword collection or decor.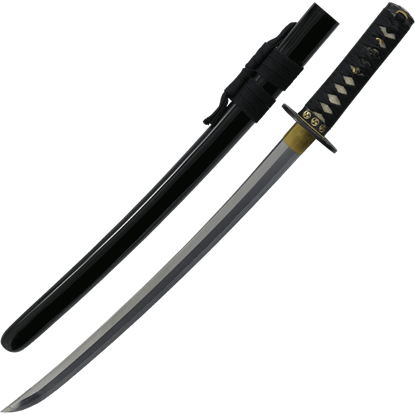 Item # SH5024
The Wind and Thunder Wakizashi works great for tameshigiri, the Japanese art of target test cutting that began in the Edo period. It has a thick, heavy blade and includes a gorgeous wind and thunder design.