Intrigue, betrayal, and drama fill the fantasy saga Game of Thrones. Based on the Song of Ice and Fire series by George R.R. Martin, Game of Thrones has become a hit HBO television show known for its competing Houses and their political maneuverings - often with bloody results. Here at Buying a Sword, you can find an excellent selection of official Game of Thrones weaponry, including pieces like Eddard Starks Ice, Jon Snows Longclaw, King Roberts warhammer, the Catspaw dagger, the Arakh of Khal Drogo, Arya Starks Needle, Oathkeeper, and more. Modeled on actual props from the TV series, these licensed collectible weapons display a high level of detail and fantastic ornamentation. Many of our licensed Game of Thrones weapons come with a certificate of authenticity and a display plaque that you can use to mount your piece on a wall. In addition to steel sword replicas, we carry an assortment of Game of Thrones LARP weapons that you can use to reenact your favorite scenes. While choosing a favorite character might be a risky business for Game of Thrones fans, picking a favorite weapon replica from Buying a Sword will always be a winning scenario!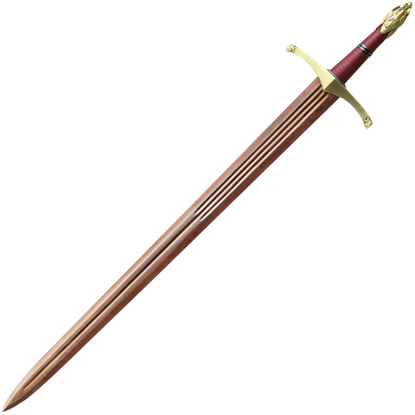 Item # Game-23
Despite the skill and care taken into the forging of this longsword from the great sword, Ice, the blade refused to take on the crimson shade of the House Lannister. Even so, the Oathkeeper Red Damascus Sword turned out quite nicely.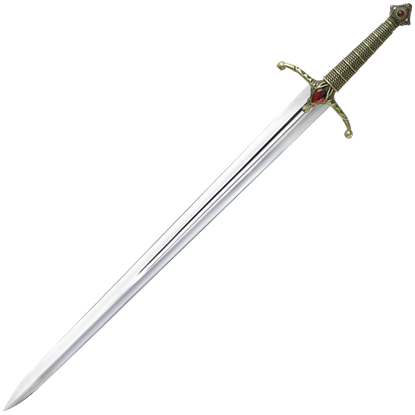 Item # Game-24
As far as families from the HBO series Game of Thrones go, the Lannisters are dramatic and fraught with complexities. Our replica sword Widows Wail is developed after the one used in the series by an assortment of characters.