Some of the most unique daggers on Buying a Sword can be found here among our wide array of fantasy daggers! A number of our fantasy blades are inspired by popular media like Conan the Barbarian, Assassins Creed, the Legend of Zelda, and the tales of King Arthur. Others display detailed ornamentation featuring designs like dragons, skulls, spiders, cobras, scorpions, flames, eagles, bats, and more. These functional and decorative daggers display wicked looking blades, many with more than one in their design. Our fantasy punch blades and claw blades, for example, often feature two to four blades extending from the base for extremely intimidating looks. A large number of our ornamental daggers come with a display stand or wall plaque to make it easy to show off your latest find. Whether you want a wizard dagger, an elven dagger, or any other classic fantasy blade design, you can discover fun options here at Buying a Sword!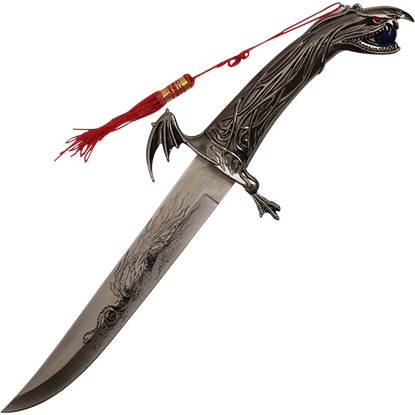 Item # NP-H-566
Dragons are very often seen as the villains of the story, and with dragons like the one found on the Wicked Dragon Dagger, there is little surprise why. From the look on the dragons face to its blood red eyes, the beast looks evil!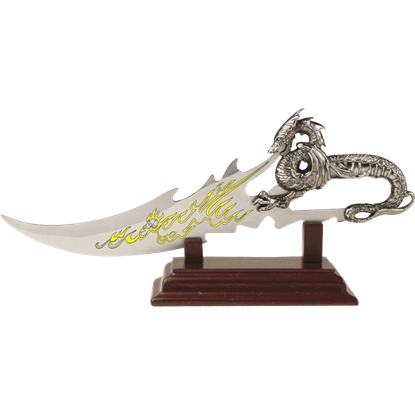 Item # MC-PK-2235
There is nothing more terrifying than a dragon breathing fire, although it makes for an incredible display of power, too. That terror and power combine in this Yellow Fire-Breathing Dragon Dagger, creating a weapon and fantasy display.